Disruptive technologies have found a larger place in our work environment and the adoption of these smart systems is rising at an exponential speed, especially in finance & accounting processes. Modern CFOs and finance leaders have seized this opportunity and set their targets on the bigger picture with digital transformation; 'to create a world class finance model to drive internal performance, business growth & enhance shareholder value'. Many organizations have realized that digital finance can unlock overall value by improving decision-making, creating straight through processes to eliminate redundancies & errors, delivering productivity through talent & technology led transformation, accelerate innovation, enhancing reporting, and strengthen the financial position.
We bring you top 5 reasons why CFOs & finance leaders can't ignore digitalizing the finance-accounting processes.
Frontline Business Adviser
Long gone are the days that CFOs had to focus on internal processes and being a cost-controller. The global dynamics have significantly expanded the CFO's role and expectations from the internal as well as external stakeholders. This profound transition demand capabilities of a 'Business Partner' from a CFO who can be a go-to-person for enforcing new revenue streams, handle complex business environments, nurture or create talent, and uplift the financial performance. The avant-garde digital tools such as predictive analytics, advanced algorithms, dashboards enabled with robotics, AI, ML etc. extend an insightful view on business metrics to drive decision making. Overall, CFOs and finance teams can invest time in being proactive advisers to the company.
Simplify Processes & Improve Services Levels
Payable and receivable processes can be highly manual, repetitive and time-consuming in nature which also make them highly prone to errors. Collecting, validating, reconciling and revalidating all the financial data to prepare error-free reports can take up the productive hours of the finance teams. With automation tools and integrated systems, organizations can introduce straight through processes which require less human-intervention yet reduce errors and improve transparency while cutting down on time. CFOs and finance teams can spend a lot of time overseeing more strategic work and organizations can further improve accounting control, address compliance and employee productivity by implementing process automation. On one hand, better collaboration improves internal as well as external service levels and on the other hand automation can decrease the administrative pressure providing it the necessary reset mechanism.
Improved Planning and Forecasting
In this digital age, availability of data and unlocking its value has taken the centre stage. Digital tools can provide agility, flexibility, and responsiveness required to handle this new reality. Finance teams work with plethora of data coming across sources and is actually a function that transforms data into information which further stimulates the business. With process automation, organizations can now streamline the finance-accounting lifecycle by collecting, processing, automatically and directing information into workflows for approvals and making it available for future records. AI algorithms and machine learning can bring objective and predictive models to support CFOs to unleash considerable financial significance from all the activities. New and compelling insights from historical data combined with analytics and market insights can be provided to the business to improve strategic decisions, planning the finances, budgeting, spend matters and forecasting the financial situation.
The Digital Workforce
Digitalization has brought a massive change in the workforce and at the workplace. RPA & AI bots can nearly eliminate 90% of manual, routine and erroneous work from your finance teams which means this time can be reclaimed for value added activities like strategic analysis, decision making, resolving complex issues and accepting larger responsibilities toward building a finance function of future. Eliminating unnecessary manual intervention is a key factor to digitizing the finance processes. Set of RPA, AI, ML & Cognitive capabilities can reduce manual inputs while enabling straight-through invoicing, billing, reconciliations, and simplify the monthly reporting process. Robots are not only making the finance & accounting processes more agile, speedier, transparent but also increasing the throughput, addressing compliance and quality requirement. This further complements your strategic vision of transforming finance function into a Digital Office, achieve cost efficiencies and scale the operations.
The Real-Time Business
Real-time businesses need real-time decisions which are triggered by real time actions and demands from your customers and business partners. As organizations becomes increasingly reliant on the broader ecosystems, strengthening this network and bridging the gap has become more than vital. Supply chain have gone digital and adapted to the ecosystem by becoming more streamlined. Integrating your organization with suppliers, distributors, vendors and business partners can propel you ahead of the competition and swiftly address supply-demand scenarios. The right blend of people, processes, technology, data, insights and collaboration can help you create the next-gen business models with aim to integrate the entire back-office, middle office and front-office operations.
Conclusion
Digital revolution has not just transformed the way we work, live and grow. It is quintessential for businesses to embrace the digital change with open arms. Technology is no longer a choice but a business imperative and so is Digital Transformation. Digital Transformation is a structured approach to help you meet the challenges and reap the rewards in a fast-changing market. Thanks to budding transformation driven by technologies such as robotics, AI, ML, block chain, data analytics & insights that allow the progressive CFOs to create overall value, bolster shareholder value, accelerate growth, improve financial performance, working capital management and operate business at scale.
Datamatics Business Solutions' inverted finance model allows CFOs to shift from cost/transaction based finance function to an outcome based function in this digital age. The inverted pyramid characterizes true business transformation and enables decisions making for CFOs in a dynamic environment.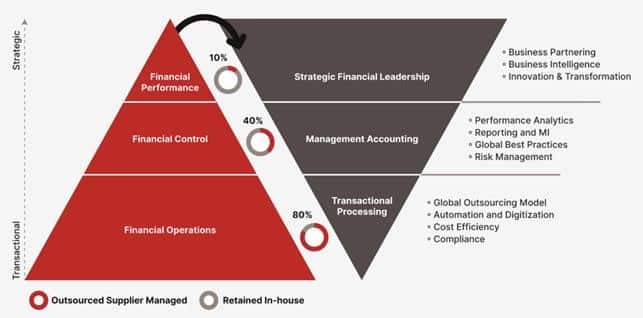 Read more about our approach to transforming Finance and Accounting functions here.