Scientists say, there are seven people in the world that look like you! It is nothing less than a miracle if so. What if we apply the same concept and build your target audience to get 7 times the expected results by expanding your search using Lookalike Audience? We take you closer to what lookalike audience means and why is it the next best things in B2B marketing.
What is Lookalike Audience?
A lookalike audience is a list of prospects or potential customers algorithmically assembled based upon the key data factors pulled from your ideal customer profiles, that simply means these are profiles with near to similar firmographics, demographics, technographics, sociographics details and possibly similar industry challenges they experience in their day to day responsibilities. These are personas that resemble to your existing customers with many common qualities.
Why is the next big thing for businesses?
Many B2C, eCommerce and social media businesses have already got hands-on over lookalike audiences and using it as effective strategy to maximize digital outreach to target prospects and win more customers who interested in your product or service. One of the largest social media platforms uses the daily browsing history on its platform to construct online persona' which is further optimized and equated with key insights of its existing users/buyers. The result is a highly-precise customer persona that looks alike with the new target buyer.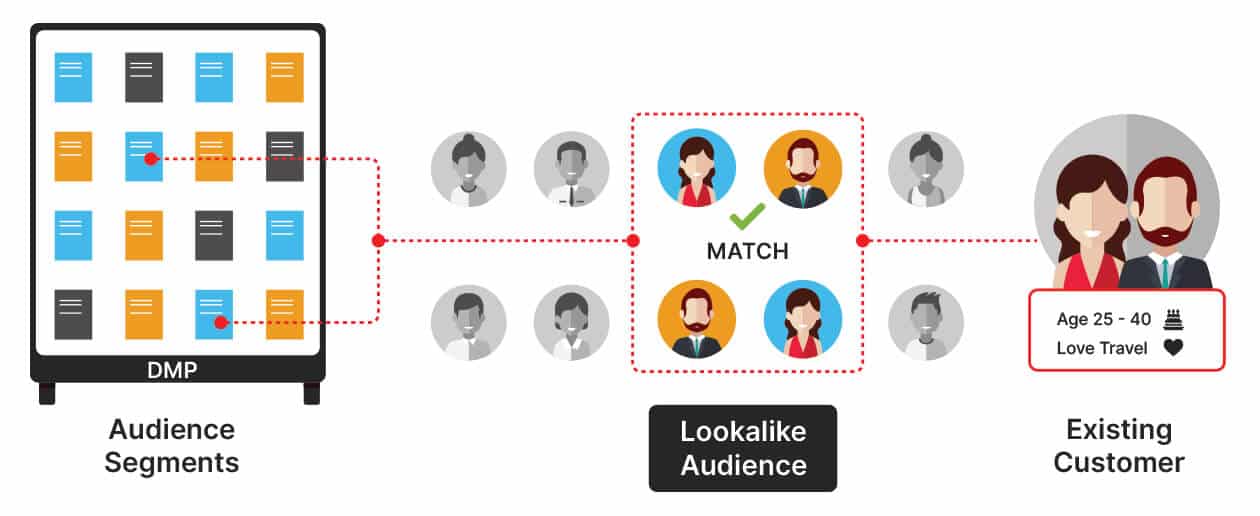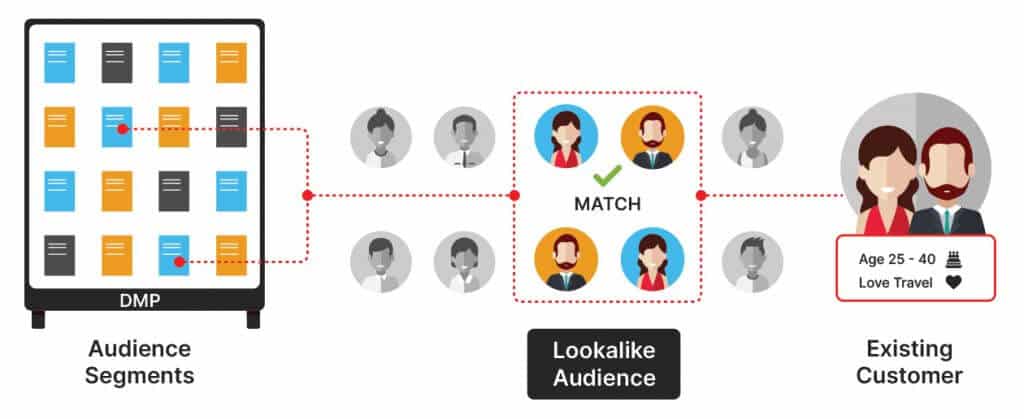 Scaling marketing with Lookalike Audiences.
Look-alike marketing is should definitely be on every B2B marketing and sales professional's radar, who are constantly on the lookout for new customers and given that the objective is to reach maximum audience who have similar experiences, needs or challenges. And the natural way is to either upsell or cross sell your products with existing customer or find opportunities out of your existing accounts. To scale your business, it's essential to add new pipeline of prospects in the sales funnel and look alike marketing offers a silver lining. However, the first challenge to find new opportunities is by identifying relevant prospects with similar attributes that will convert to high quality leads.
Identifying b2b target customers and even searching account-based clients is becoming a hard row to hoe, so where do you start with Lookalike Marketing?
Identify targeting criteria-

Include financials, revenue size, profitability, industry with SIC & NAICS codes, employee size, type (public, private, subsidiary), parent company and organization structure & geography/location. Location can be as broad based on continents, countries, an economic region, specific state, city or a town.
Add relevant job title, function, roles, responsibilities, education, official social handles etc. To further complement that you can also add seniority ranging from Manager, Director, VP, Heads, CxO, Executive Profiles or demographics elements relevant to the search.
Append the data for further segmentation based on likes, dislikes, group subscriptions, things that matter or digital interactions.
For technographic profiling you can include IT budgets & spend details, hardware & software landscape, ERP, SaaS adoption, automation systems, CRM, outsourcing details, current technology partners and new technology investments
Benefits of Lookalike Marketing–
Quickly scale your audience search based on best matching data.
Create hyper-segmentation based on matching audience.
Maximize campaign ROI with effective targeting.
Scale your campaign quickly and reduce the overall sales cycle.
Help find high potential clients with ready business.
Do more with less and reduce marketing TCO.
100% Accurate B2B Data- a Way Out to Lookalike Audiences
The success of lookalike audience depends on the quality and depth of the data. A 100% accurate B2B database is crucial for B2B marketers to create lookalike audiences. Fabricated and old customer database can lead to targeting incorrect lookalike audiences. Yet, due to a lack of customer database management and chaotic CRM systems businesses fail to streamline their valuable data. Hence, the goal of targeting lookalike audience stays undone and marketers face lackluster campaign outcomes. A lookalike audience is a beehive of potential customers. It expands your marketing approach, adds new dimensions, and evaluates the B2B data in such ways that you have never tried.