An effective B2B lead generation strategy should be at the heart of every enterprise. Efficient lead generation activities help you uncover new business opportunities, target your ideal customer profiles better and align marketing and sales efforts with your business objectives. A well-defined lead generation strategy can significantly improve the chances of converting prospects into long-term clients.
Lead Generation is a challenge even for market leaders. This makes it imperative for every business to have an effective lead generation strategy in place. In fact, the science of successful lead generation demands art, technology, intelligent data solutions and analytics to be customized according the business landscape. The rigor involved in generating high quality leads is quite demanding, but the benefits are unparalleled.
Benefits of B2B Lead Generation Strategy
Expand audience reach
Boost customer engagement
Nurture customer relationships
Generate relevant and qualified leads
Identify the right target profiles
Grow key accounts
Personalize marketing and sales communication
Enhance the business revenues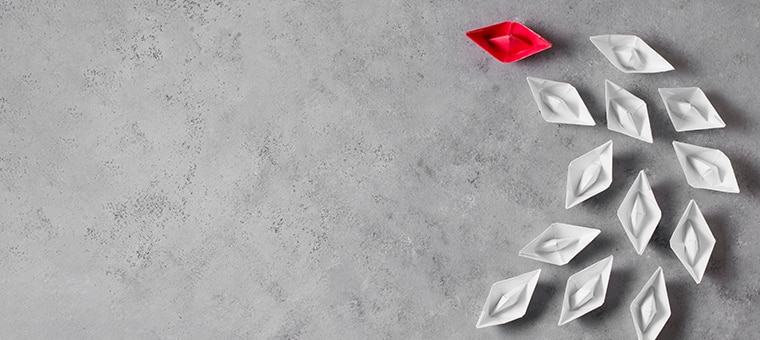 Now that we're clear about the importance of lead generation, let's dive into some of the top lead generation techniques and strategies.
Effective Lead Generation Strategies
Optimal Lead Characterization through Buyer Personas
Knowing your customers helps you understand their problems and needs better, and customize your marketing communication accordingly. Recognizing your target audience and characterizing your buyer personas will prove to be the vital first step in generating high-quality business leads.
You should focus on the most relevant and important attributes to lay out the characteristics of your ideal customer. This helps you understand the intent of your leads before qualification. The implicit attributes that describe their online behavior help you understand the buyer journey and tailor your lead generation strategies accordingly.
Leverage Automation and Intelligent Technology
Use of multi-channel marketing approach can make tracking lead generation progress tedious, complicated and error-prone. Erroneous data and mismanagement can lead to incorrect business decisions and cause loss of business. To optimize the lead tracking process, companies should leverage automation technology to overcome data challenges in sales and marketing.
AI, RPA, ML and other intelligent technologies are making business processes more efficient, effective and simple. Deploying AI-powered B2B lead generation tools to build custom lists can help you gain insights into the factors that influence buying behaviors. Marketing automation will optimize your marketing campaigns and speed up the process of lead conversion.
Build an Omnichannel Presence
Often, marketing experts debate about which one is better – inbound marketing or outbound marketing. From the lead generation and business revenue point of view, the answer is simple – both! Why choose only one between the genius of inbound and freedom of contact in outbound, when you can strategically use both to boost your lead generation?
Multichannel outreach strategy helps you create more leads and reach out to the audience that could be missed in a single channel strategy. You can easily boost your brand visibility and secure both online and offline presence for your business.
Personalize Marketing Communication
With audience being constantly bombarded with marketing emails and ads, digitally and offline, personalizing your communication with the prospects will help you stand out and make a lasting impact. Ensure that your marketing communication adds value to your prospects and helps them with innovative solutions to their problems.
Personalizing your B2B lead generation activities helps you create a genuine connection with your potential customers. This makes it easy to appeal to their needs, desires and personal interests. Personalizing prospect communication will open up new growth opportunities for you and your business.
Optimize the Buyer Experience
A prospect experiences multiple touchpoints throughout the buyer journey. As marketing and sales professionals, it is your prerogative to ensure that you deliver excellent buyer experience throughout the buying process, at every touchpoint.
From discovery to conversion, your customers should be provided with apt information about your products and services. Be it website resources, landing pages, emails, cold calls, social media engagement, ABM campaigns or any other digital or offline interaction, you should ensure the content is optimized for every touchpoint.
Marketing and Sales Collaboration
Despite well-defined lead processes, use of automation technology and optimizing communication, you might still struggle to close the leads if your marketing strategies aren't aligned with the sales team. The Marketing and Sales teams should be on the same page, when it comes to lead qualification criteria and conversions.
Over 60% of B2B sales reps are more likely to follow up on MQLs if their pre-decided qualification criteria are met. The equation between MQLs and SQLs is maintained when marketing and sales collaborate to co-own lead qualification strategies. This also makes room for iterative improvements.
Benefits of an Expert Lead Generation Service Provider
Accelerating lead generation and closing leads faster is the top priority for every business. Lead generation requires data-driven marketing, hyper-personalized selling and sales-marketing alignment to prosper. Realistically, the lead generation process can be overwhelming and time-consuming – demanding time, effort and resource investment. Instead of investing in an in-house team and resources, businesses can outsource the entire process to lead generation experts.
This ensures that companies don't compromise time on operations and optimize the true value of marketing efforts. Outsourcing demand generation services can help you achieve business objectives faster and in a more cost-effective manner.
There are various lead generation service providers available in the market. However, choosing the one that understands your business objectives the best is important. Datamatics Business Solutions helps B2B marketers accelerate their customer acquisition across the marketing funnel and improve sales velocity. We deploy AI, ML, RPA and NLP into building custom databases and generating qualified leads that your sales team can run with. These future-proof solutions improve prospect engagement, nurture relationships, and generate better marketing ROI.
Final Word
B2B lead generation can seem difficult as you can't just replicate a strategy that worked for somebody else. Every business should devise its own lead generation strategy aligned with its business goals, objectives and target customer needs. The key is finding a strategy that will work the best for you or employing a lead generation service provider to take care of your demand generation targets.
Be it in-house or outsourced to an intelligent business solutions provider, your lead generation strategy should focus on delivering a buyer experience par excellence. Our team of demand gen experts are happy to help, if required.