They say, timing is everything! To close business leads, your sales & marketing efforts should reach the right audience at the right time. For this to happen, it's imperative to know who your audience is and what they want. Business account profiling is the best way to create your ideal customer profile and understand their problems and expectations. Business research and analysis teams are putting their thinking hats to know how to create an ideal customer profile and enable marketing teams to be more effective.
What is Account Profiling?
Account profiling is the process of gathering as much information as possible about the customers and buying trends. The primary goal behind B2B account profiling is to understand who the ideal customer is, what they need and how to reach them. Detailed account profiling helps you define the ideal customer profile and enables sales and marketing teams to personalize messaging and enhance the entire customer experience. This way, account profiling saves your B2B marketing efforts from failing.
A Quick Guide for B2B Account Profiling
Understand your products and services
Listen to your customers
Get a deeper insight into your customers
Consistently update the account profiles
Keep an eye on changing buying habits and trends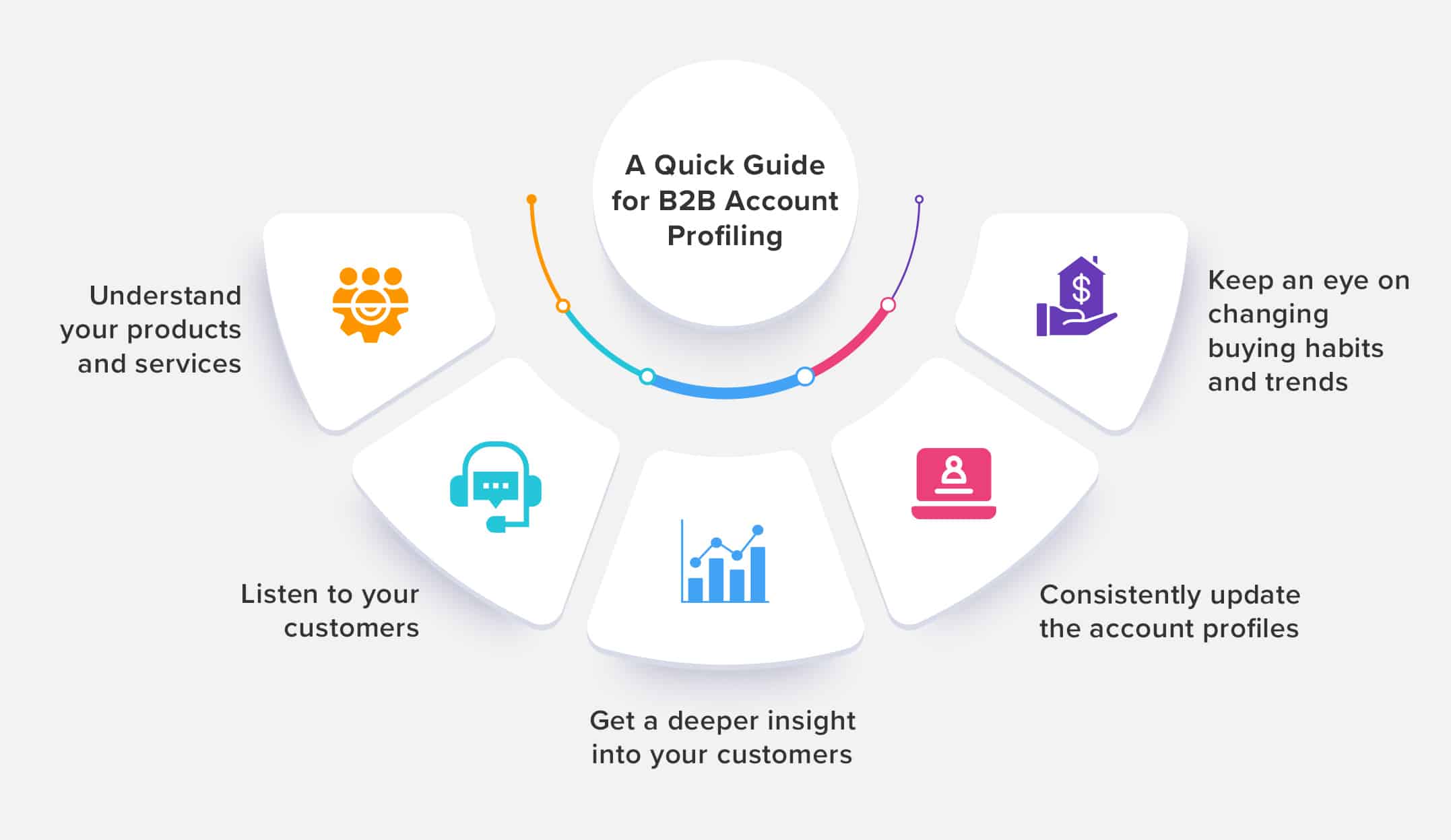 Understand your Products and Services
Before understanding what your customers want, it is crucial to understand what an ideal customer profile is to know who your target customers are. Having a thorough business understanding helps you realize how your products and services will impact the market and target customers. The way you position your products and services will influence people's perception about your business.
Customer data will be helpful for account profiling when it contains detailed information about the market segment that is the right fit for your products or services. Moreover, your business goals will also influence the type of customers that will want to associate with your offerings.
Your customers are the best judges of your products and services. Consistent feedback from your customers regarding the quality of your offerings and their perception of your organization will help you create an ideal customer profile. Conducting surveys on a regular basis is a great way of getting an insight into customers' thoughts while building the ideal customer profile.
All this information will help you understand how to create an ideal customer profile and if you are targeting the right audience, and moreover, if you are choosing the best way possible to reach out to them and position yourself as a unique solution provider.
Get a Deeper Insight into your Customers
For better B2B account profiling, it is always advisable to identify the target customers on the basis of demographics, psychographics along with behavioral factors that can influence their buying decisions. The formula is straight and simple – the more information you gather about your target customers, the better your chances will be of converting them into business leads.
Your B2B database should comprise of end-to-end customer data including information about their age, gender, geography, interests, job roles, and more.
Consistently Update the Account Profiles
Once you gather all the information about your customers, use this data to build your B2B prospect database. However, if you want to optimize the results from account profiling, you should consistently update your database and add new-found information about your prospects.
Remember to create different segments – demographics, behaviors, habits, psychographics, etc. – while creating account profiles. This will not only make it easy for you to update new information but also make it easy to discover and read whenever required.
Keep an Eye on Changing Buying Habits and Trends
The world is constantly evolving and so are buyers' behaviors and market trends. You would want to keep a close eye on your target customers in terms of their changing buying habits, interests, preferences and expectations. This will not only help you enhance your products and services but also gain consumer trust.
Conducting market research and analysis at regular intervals will help you understand what you can do differently to improve your offerings. This will also help you improvise your marketing communication and sales efforts to enhance your business growth.
Business Benefits of Account Profiling
Identify the best-fit audience
Lower customer acquisition cost
Enhance customer experience
Drive brand-loyalty & reduce customer churn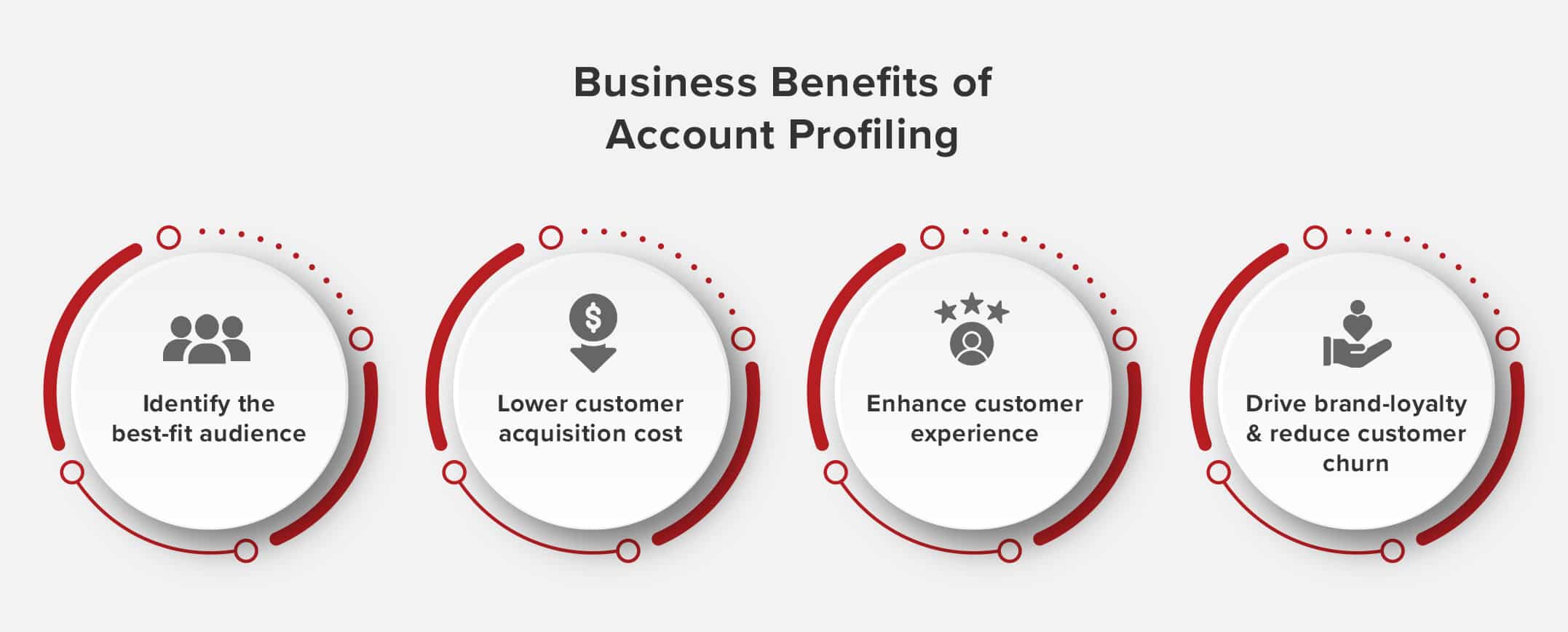 Identify the Best-fit Audience
The major benefit of account profiling is that you always target the relevant audience. You already understand your customers' needs and expectations. This helps you target them with apt marketing communication and win high-value accounts. Business account profiling will help you lay out an accurate ideal customer profile template that will enable you to identify the best-fit audience.
Lower Customer Acquisition Cost
B2B account profiling helps you optimize your resources and efforts. Since your marketing and sales campaigns are directed at the audience most suitable for your offerings, the money you spend on these campaigns will have a high ROI. The more specific your account profile is, the less you'll spend on the marketing and sales campaigns.
Enhance Customer Experience
The importance of delivering an excellent customer experience should never be undervalued. Knowing your customers helps you serve them better. When your marketing communication and sales efforts address their requirements and offer solutions they need, you turn your prospects into happy clients.
Drive Brand-loyalty & Reduce Customer Churn
Customers part ways with your organization mainly when your offerings don't meet their requirements and expectations. The best way to reduce the customer churn is understanding their needs through accurate account profiling. This eventually leads to higher conversions, a positive brand image and improved customer loyalty.
B2B account profiling is the best way to create a portrait of your target customers-ICP. This will enable you to design your marketing strategies that will ensure a higher number of closed deals. Whenever you are planning to launch a new product or service, knowing your ideal customer profile will help you generate more sales. To get the best out of account profiling, you can always hire a seasoned business research & intelligence company.
Offshoring the entire account profiling process will help you utilize your resources for other business operations. Business research service providers bring you market intelligence that can transform information into actionable outcomes.