Effective business growth strategies start with high-quality B2B data for organizations. Many businesses put in a lot of effort in their sales and marketing initiatives, however, fail to achieve the desired results and outcomes. More often than not, they fail to target the right audience as they use unstructured or irrelevant or dated B2B data lists. Business data, in fact, forms the basis of every sales and marketing campaign and its quality impacts the ROI and business outcomes.
What are the Attributes of High-Quality B2B Data?
Accuracy
Recency
Completeness
Compliance
Comprehensiveness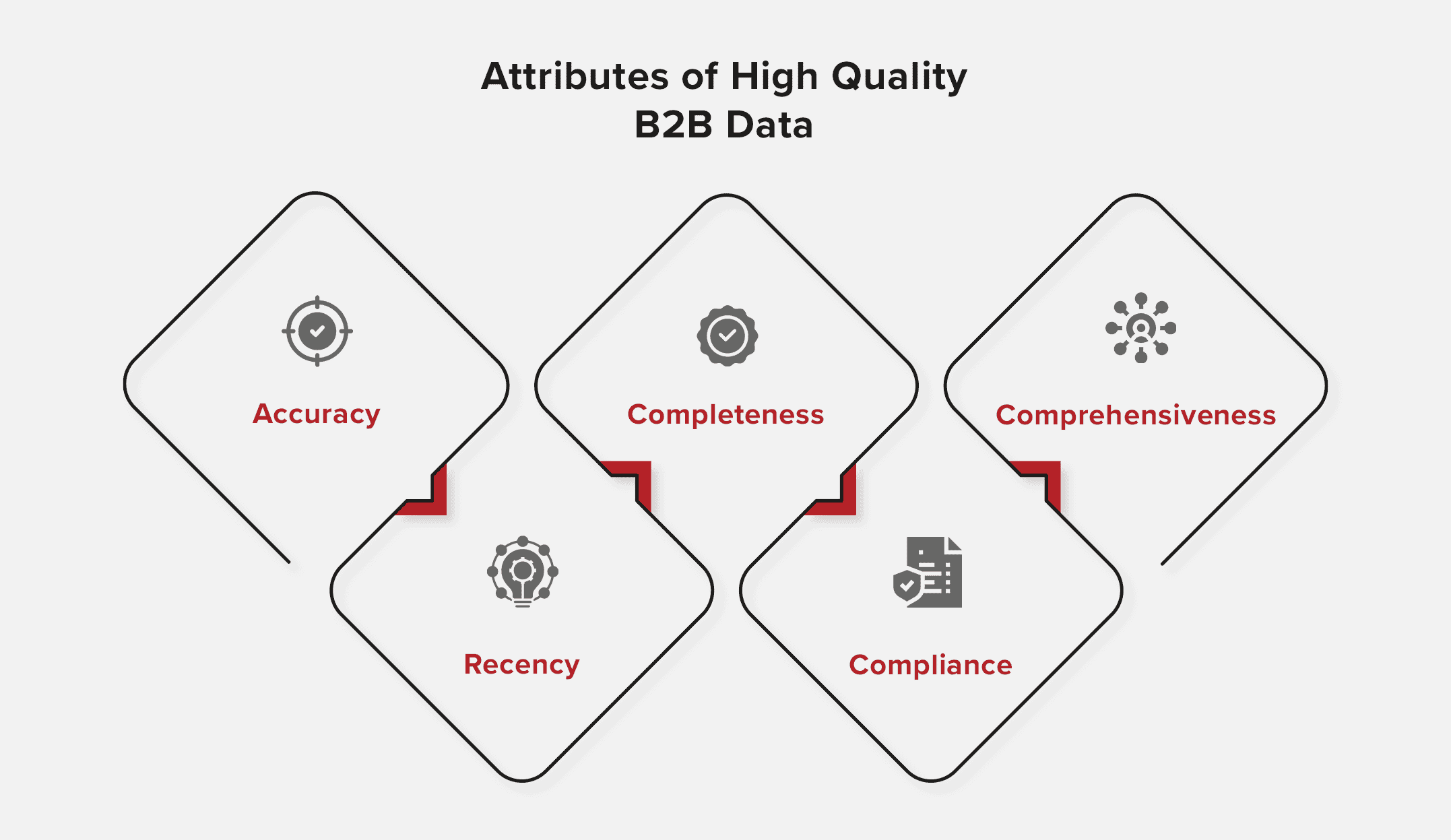 High-quality B2B data for organizations is the measure of the condition of data based on factors such as accuracy, recency, completeness, compliance and comprehensiveness.
Data accuracy defines how well the business data reflects the reality about particular aspects. To measure data accuracy, it is important to know what sources were used to gather the data along with the processes that were implemented to verify the data collected. A full-proof data quality management process will ensure high accuracy of data values.
The business world constantly keeps changing with the increasing importance of high-quality B2B data. The market trends, customer behavior and factors that influence buyer decisions also keep evolving with time. This calls for business data that is updated and recent. This ensures that the data quality for B2B organizations is of the highest standards. Data recency also helps you stay in sync with the changing market demands.
Data completeness refers to the degree to which the data in a data set is available. To ensure the completeness of your business data, it is important not to miss any values or records. Data completeness is an essential component of data quality framework and has direct impact on data accuracy and validity. Completeness is always an important factor considered for high-quality B2B data.
While talking about data quality for B2B organizations, non-compliant data is considered poor quality data. It can potentially cost organizations monetary fines and lead to legal troubles, not to mention the damage it will cause to the company reputation.
While ensuring data quality for B2B organizations, more emphasis should be put on data compliance when it comes to gathering, processing and storing business data.
High-quality B2B data with no information gaps provides vital insights to sales and marketing teams. Business data should give complete coverage of markets and prospective customers along with actionable insights. Data comprehensiveness determines how easy and impactful your data proves to boost your business outcomes.
Role of Data Quality in B2B Organizations
The importance of data quality for B2B organizations goes well beyond just providing accurate data. It can have great impact on business outcomes. Equipped with high-quality business data, sales teams can do wonders! Quality data gives them access to potential customers that are most likely to convert into clients. High-quality B2B data helps the sales team to understand the prospects better and design a personalized sales strategy and procedure to boost the conversion rates.
High data quality for B2B organizations serves as the optimal source to create an Ideal Customer Profile (ICP). With high-quality and accurate B2B data solutions, marketing teams can target the right markets and audience to enhance lead generation, improve lead quality and make data-driven decisions. Data quality management strategy and framework will give your marketing team an edge over your competition.
Benefits of High-Quality B2B Data Management for Organizations
In-depth Analysis of Business Data
High-quality B2B data provides complete and accurate information about your business prospects. This information helps sales and marketing teams to carry out in-depth analysis and understand the lead better. With these insights, businesses can personalize the marketing communication and sales efforts to improve conversions.
Enhanced Customer Loyalty
With high-quality B2b data, businesses can identify their ideal customers. This helps them connect with their target audience more effectively and strategically. For a marketing campaign, to become effective, it is important to convey personalized and appealing messages.
High data quality for B2B organizations translated into a greater number of qualified leads. You can understand the customer expectations and provide information that will be helpful for them and solve their problems. This helps you earn their trust, improve customer relationships and eventually, cultivate long-lasting customer loyalty.
Optimization of Efforts and Resources
Once you identify the right target audience, you can further design a strategy to effectively connect and engage with them. Due to the lack of quality data, businesses often waste their time and efforts chasing the wrong audience and end up hurting their conversion rates. This can be avoided with business data solutions of high quality and accuracy.
Adapting data quality management best practices will help you optimize your sales and marketing efforts. Clear insights about the prospects will enable you to utilize your resources in the best way possible and generate more business while saving time and money.
Accelerate MQL to SQL Conversion
Buyer intent data solutions help you predict the likelihood of a MQL converting into a SQL. High-quality data sets offer insights into the current state of the lead journey. You can engage with the leads at the time when they are most active and on their preferred platform. This will help you accelerate the MQL to SQL journey.
Boost your Business Revenue
The best quality B2B data solutions enable sales, marketing and customer success functions to integrate and work collectively towards increasing leads and sales conversions. When business data is used effectively, it helps organizations meet their sales targets by improving conversion rates.
Improved Business Frameworks and Processes
B2B data solutions that are accurate, valid and reliable help you improve your marketing and sales processes. High-quality B2B data enables organizations to make informed and data-driven decisions. Organizations realize what they can do better to deliver improved products and services to their customers. This sets a more effective framework in place that ensures better understanding of the market, audience and the products.
High-quality B2B data will ensure that companies generate better leads, improve their conversion rates, explore more business opportunities and boost business revenues. Data quality management solutions will continue to be a critical part of demand generation strategies for organizations.
Onboarding a reliable B2B data solutions provider can prove to be a great strategic step in your business growth. You can reach more targeted customers, generate more qualified leads, close more deals with effective data solution providers.
Datamatics enables data-driven decision making with its bespoke B2B database and management services. The AI-powered data solutions help you stay ahead of the curve. Our robust data labs and hybrid CRM data cleansing model deliver high-quality data to global businesses to accelerate their revenues journey.