If you are into B2B marketing and lead generation, you are aware of how dynamic the market is. What was successful last year might not be successful this year, and what is successful this year may not work next year. You need to keep abreast of the most recent lead generation trends if you want to stay one step ahead of the competition.
ABM, appointment setting, and leveraging intent data are a few of the key B2B lead generation trends to watch for in 2023. Understanding and incorporating these trends into your lead generation strategy will help you keep your company competitive and ready for the coming year. You can rev up your lead generation efforts in 2023 with the right strategy and resources.
What is Lead Generation in Marketing?
Lead generation is the process of piquing potential customers' interest in your goods or services to increase future sales. It is a crucial component of the sales processes of many businesses and a fundamental element of marketing trends in 2023.
A lead is a potential customer who has expressed interest in a company's goods or services but isn't ready to buy yet. They are prospective customers with whom a company has yet to do business but has reason to believe it will happen.
What is the Future of Lead Generation?
Marketers are accessing new tools and technologies to streamline the lead generation process and make it more effective.
These tools enable the sales and marketing teams to personalise advertising so that potential customers can be identified with utmost accuracy. This will boost the volume and quality of leads a business generates.
In addition, businesses need to concentrate more on delivering value if they want leads. Businesses will also seek "lead insight" for the long term. Rather than providing a single giveaway and collecting emails, businesses will need to use a variety of promotions, incentives, and trackable attributes over time to refine their lists.
Personalization and social selling are at the core of 2023 lead generation strategies. With consumers becoming more immune to retargeted advertising, account-based marketing (ABM), branded pop-ups, and appointment settings will become more valuable.
Why Do Lead Generation Marketing Trends Matter Now?
Recent years have seen a significant change in lead generation. After the COVID-19 outbreak, the swift transition to digital modes of engagement increased consumer awareness. It allowed decision-makers to look for solutions without having to contact the sales folks.
B2B customers prefer digital service tools to traditional ones because they feel more at ease making remote purchases and want to make the most of the goods and services they purchase. As a result, new B2B lead nurturing strategies and demand generation trends have emerged.
Top B2B Lead Generation trends in 2023
In a nutshell, after countless curveballs in the past couple of years, B2B lead generation will be tricky for businesses. Hence, this is the right time when B2B marketers should pull up their socks and explore what the future holds for them by walking through the top B2B lead generation trends 2023. So, let's see what we can look forward to this year and prepare.
Here are the top 6 lead generation trends to watch out for in 2023:
1. Digital Lead Generation
With contactless buying or remote working becoming the new normal, buyers have predominantly shifted from in-person sales interactions to digital channels. Chatbots, mobile marketing, voice search, and video marketing are pivotal digital mediums that will potentially shape your marketing strategy. As a result, more B2B marketers will likely move to a digital-first marketing approach, which ultimately means online advertising and content will top the top priority list.
2. ABM – Account-Based Marketing
If your B2B lead generation strategies need an upgrade in 2023, then account-based marketing (ABM) would be a major one. ABM is meant for B2B markets, which drives personalized and focused interactions at an account level by having relevance to every message.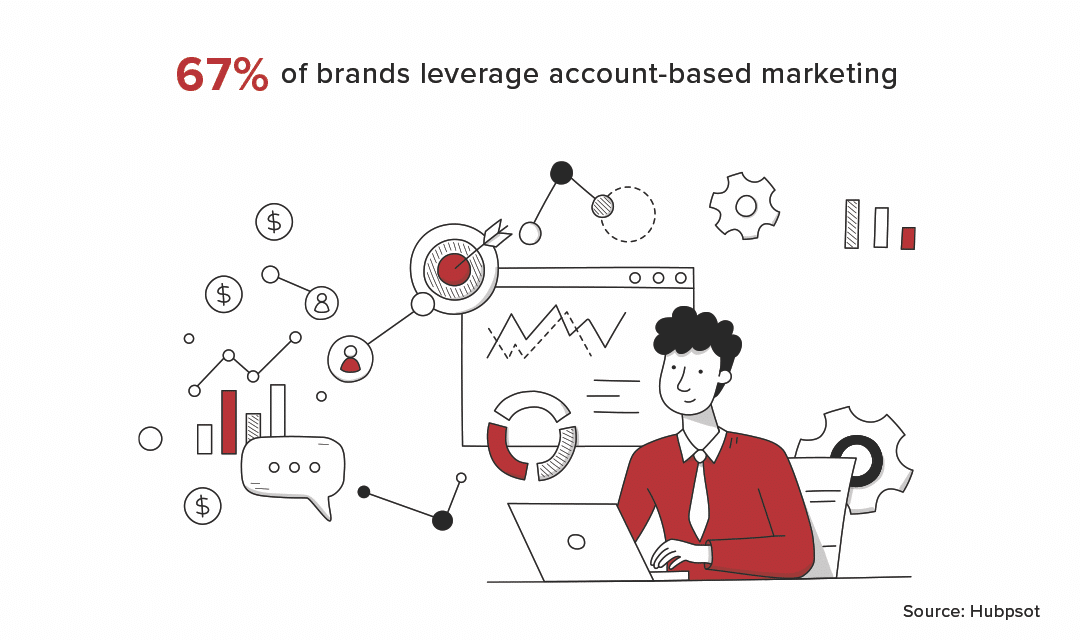 Recently, Google made an announcement of putting an end to cookie tracking, reinforcing its privacy and tracking policy. This might be good news for customers but not for marketers since customer behavior has been crucial for understanding the buyer's intent.
So, will it become harder for marketers to know their target customers in 2023?
Not really, if they take on first-party intent data, also known as intent data. It is nothing but the direct data collected about the consumer's online search journey through gamification, surveys, online search histories, etc. 81% of customers look for the product online before actually buying it, and that is the intent data, which will be pivotal to track the demand for a particular product or service. B2B marketers can use intent data to understand:
Prospects' purchase intent
The product they are looking for
Are they looking for a competitor's product or service?
How to segregate them based on intent behavior, topic, and score
Whether you want to increase precision in audience targeting, make informed marketing decisions, or intensify personalization, B2B intent data is an integral weapon in a B2B marketer's arsenal. Moreover, understanding your buyer's journey and what they're interested in can help you better align your sales pitches and increase your chances of closing the deal.
Marketing automation is not something new; it's been there for a long time. In fact, the very first marketing automation tool, 'Unica,' was launched when many of us didn't even have access to the internet. However, in 2023 it would not only make marketing easy but also better for the B2B marketers. Automation removes the daily mundane, time-consuming tasks from marketers' lists and allows them to involve more in strategic decision-making. Apart from that, some of the key benefits of marketing automation are –
Content personalization
Audience target segmentation
Automating drip & nurture campaigns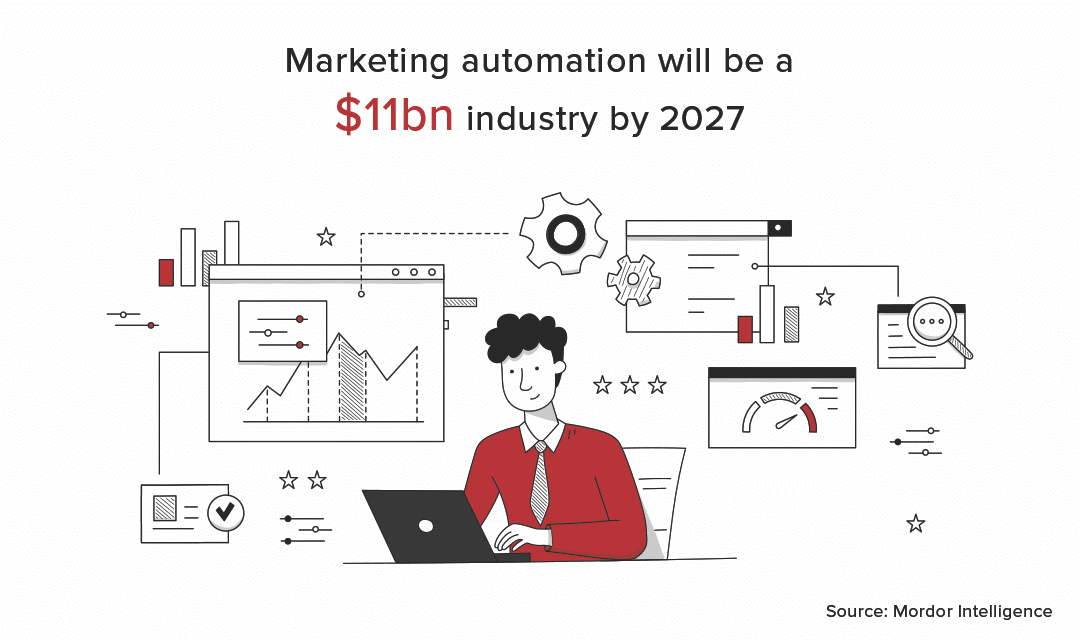 By facilitating lead generation and nurturing, marketing automation can help you reach more high-quality leads faster. It enables you to put lead generation on autopilot to increase sales conversions. It can become a growth-hacking tool for SaaS by reducing marketing costs, empowering sales teams, and improving the final output.
The B2B appointment setting has evolved rapidly as one of the most pivotal aspects of business connections. It is no longer just about setting an appointment but has emerged as a critical element in building and maintaining a constructive relationship with potential customers. The 'new normal' of remote working has changed the way people set appointments; from having F2F appointments, it has evolved into video calls on Zoom, Microsoft Teams or Google Meets. This new evolution of virtual appointments has simplified scheduling and attending meetings from anywhere and anytime with utmost convenience. Businesses can look at it as an advantage for agile lead generation.
It's estimated that soon, 82% of all internet traffic will be video content.
Video marketing is one of the top growing lead generation trends as online video content becomes more and more popular. Companies are realizing its importance in boosting sales and engagement on various platforms.
Brands are now leveraging a multitude of video content, including short informational videos, live streams, demonstrations, webinars, and much more.
YouTube has historically been a major platform for video marketing. However, it is now much more widely used on other platforms like Facebook, Twitter, Instagram, and LinkedIn, and this trend is expected to continue as video views are rising quickly!
This year will be a year of growth and opportunities to thrive. These B2B lead generation trends for 2023 will indeed work as a torchbearer for you while pursuing the new set of goals to get a competitive edge in the market. Don't worry, even if you get stuck; as a B2B lead generation outsourcing partner, we are here to partake in your lead-to-revenue journey by amplifying prospecting and hyper-personalized selling with multi-channel engagement.
Frequently Asked Questions