Data cleansing, also called data cleaning or scrubbing, is the process of eliminating incomplete, inaccurate, or irrelevant data from any given database or dataset in general. The primary aim of data cleansing is to enhance the accuracy and reliability of the data, making it suitable to be processed and used as per the business requirements.
In a typical business setting, data inaccuracies can arise due to several factors, such as input errors, data processing errors, or just the change in the information that the data contains, such as age, demographics, company, location, etc. Incorrect or incomplete data is of no use to any business. It can do more harm than good as it will lead to flawed analysis and decision-making, which certainly will have an adverse effect on your business growth. This makes data cleansing outsourcing a vital service for your business, as it comes with enormous advantages for businesses of all sizes.
Overview of Data Cleansing Outsourcing
Data cleansing outsourcing saves cost and time by eradicating the manual data processing processes, which can lead to errors. With automated data cleansing process, tools and services, businesses can quickly identify and fix mistakes, saving them huge costs and effort that otherwise would've gone into manually identifying and correcting them.
Data cleansing outsourcing, as a process, is crucial for organizations to stay compliant with data protection regulations, like the General Data Protection Regulation (GDPR) and the California Consumer Privacy Act (CCPA). All these regulations have been introduced to ensure that business data is clean and accurate and gets erased when unnecessary.
Overall, data cleansing outsourcing is vital for modern data-driven businesses looking not only to boost their data quality but also to make better decisions and stay compliant with data protection regulations.
Finding The Right Data Cleansing Outsourcing Provider
With the growth in technology and, with it, the amount of data that gets generated regularly, the number of data cleansing outsourcing providers has gone significantly up in recent times. These data cleansing outsourcing providers are companies with experience and expertise in cleaning and improving data quality for businesses of all natures. These outsourcing partners are equipped with resources, tools, and technologies specializing in identifying and correcting data errors, inaccuracies, and inconsistencies in data sets. As a result, it helps to have high-quality data, which can further be used for decision-making.
When looking for a data cleansing outsourcing provider, you must outline your business needs to ensure you are signing up with the right partner.
Some of the things that you can enquire about include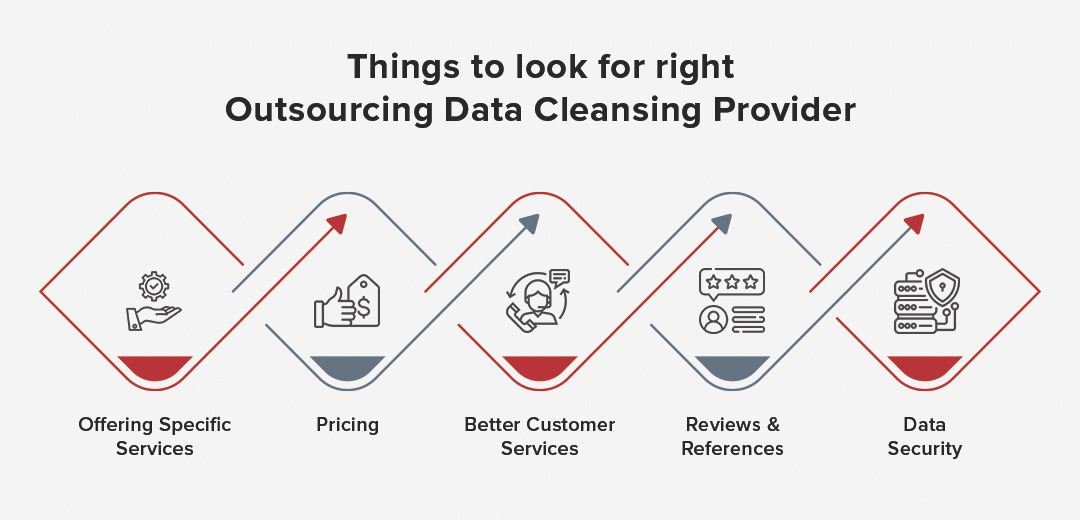 Specific Services Offered:
You must ensure that the data cleansing outsourcing partner you select for your business requirement offers precisely the services you need.
Data profiling
Data standardization
Data Enrichment
Data deduplication
other data cleansing services
Data cleansing outsourcing is a significant investment, whether you are a large conglomerate or a small business. This is why you must ensure you are partnering with a service provider offering flexible and transparent pricing options. Always check for hidden costs and get a detailed cost breakdown to ensure no additional fees or charges other than the ones agreed upon.
You will be interacting with your outsourcing partner regularly, so make sure you partner with someone who is reliable, responsive and has a robust customer service process. You want your outsourcing provider to address your problems or issues immediately and efficiently.
It is also wise to check for reviews and references for the outsourcing partner you are considering partnering with. This will give you an outside perspective on the pros and cons of partnering with them and, consequently, allow you to make informed decisions.
Because you will share sensitive data with your outsourcing partner, you must ensure they have strong data security measures. Partnering with a provider with robust data encryption and access control policies is advised. Also, make sure that they are GDPR and CCPA-certified data cleansing outsourcing provider.
Benefits of Data Cleansing Outsourcing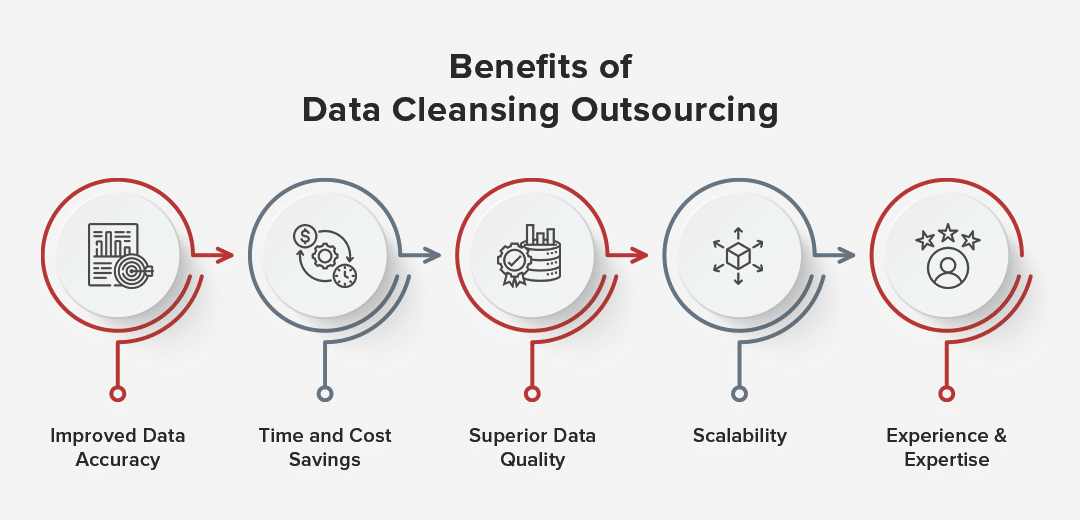 Data cleansing outsourcing as a process can have varying benefits for different businesses. However, there are some general benefits associated with data cleansing outsourcing that every business can observe, and we have listed some of them for you here.
1. Improved Data Accuracy
Data cleansing outsourcing providers help you identify and eradicate the errors from your data, making it free from inconsistencies and inaccuracies. This improves the accuracy of your data set, enabling better data analysis and informed decision-making.
When done in-house or manually, data cleansing can be incredibly laborious, requiring considerable time and resources. However, with the help of an outsourcing partner, you can quickly free up much time for your team and allow them to focus on business growth activities.
Outsourcing data cleansing helps you standardize your data with complete and consistent information. All of this contributes to creating superior data quality, which can be instrumental in achieving business goals and making business decisions.
Outsourcing has been a go-to alternative for businesses looking to scale. Data cleansing is no different; as your business grows, so will the associated data, and you will need a scalable data cleansing solution. The data cleansing outsourcing service providers can handle huge data volumes, which certainly can help you implement strategies custom tailored for your business needs.
5. Experience & Expertise
Data cleansing outsourcing providers have rich experience and expertise in data cleansing, making them suitable to understand your business needs and tailor a service ideal to you. They also monitor the industry's best practices and trends in data cleansing to ensure they are harnessing the most effective data cleansing techniques for their services.
As mentioned earlier, these are some prominent benefits of outsourcing data cleansing. However, there is a wide assortment of benefits that can be availed depending upon the business goals and business type.
Finally, using data cleansing outsourcing offer many benefits for the businesses, such as improved data accuracy, reduced costs, increased efficiency, and informed decision-making capabilities. However, in a data cleansing service provider market, you need to partner with a service provider that can offer you consistent, reliable, and up-to-date data. This will help you attain operation excellence and drive business growth. If you are looking for a proficient B2B data cleansing provider, we can help you get started. Just write to us at: marketing@datamaticsbpm.com, and we will have our data experts reach out to you with a solution tailored to meet your business needs.
Frequently Asked Questions