It's no secret that having a steady stream of qualified leads is crucial for your business, but sometimes finding the time and resources to connect with potential clients can be a real challenge. That's where B2B appointment setting companies come in to save the day.
But with so many options out there, it can be overwhelming to figure out which appointment setting company is the best fit for your specific needs. That's why we've put together a list highlighting the top 15 appointment setting companies in 2023. These companies have consistently proven their prowess in filling up business calendars with high-quality appointments, resulting in increased sales opportunities and a boost to their clients' overall success.
Before we start, it's important to note that this list is purely our opinion, and therefore should not be deemed as any sort of ranking. The market is buzzing with various companies, each with unique strengths, so consider this guide as a helpful starting point in your search for the perfect B2B appointment setting partner.
What is a B2B Appointment Setting Company?
B2B appointment setting companies are the corporate world's matchmakers, connecting one business to another in the pursuit of beneficial partnerships and profitable endeavors.
Let's consider the daunting task of a company pitching its innovative product or service. They must identify the target audience, grab their interest, persuade them of the benefit of what they are offering, and ultimately set up a meeting so they can dazzle them with a masterfully crafted presentation. It's a lot to manage, especially given that the company's primary areas of expertise could be elsewhere.
This is where B2B appointment setting companies come in. These businesses are skilled at identifying, nurturing, and qualifying leads to convert them into promising appointments with important decision-makers in the target companies.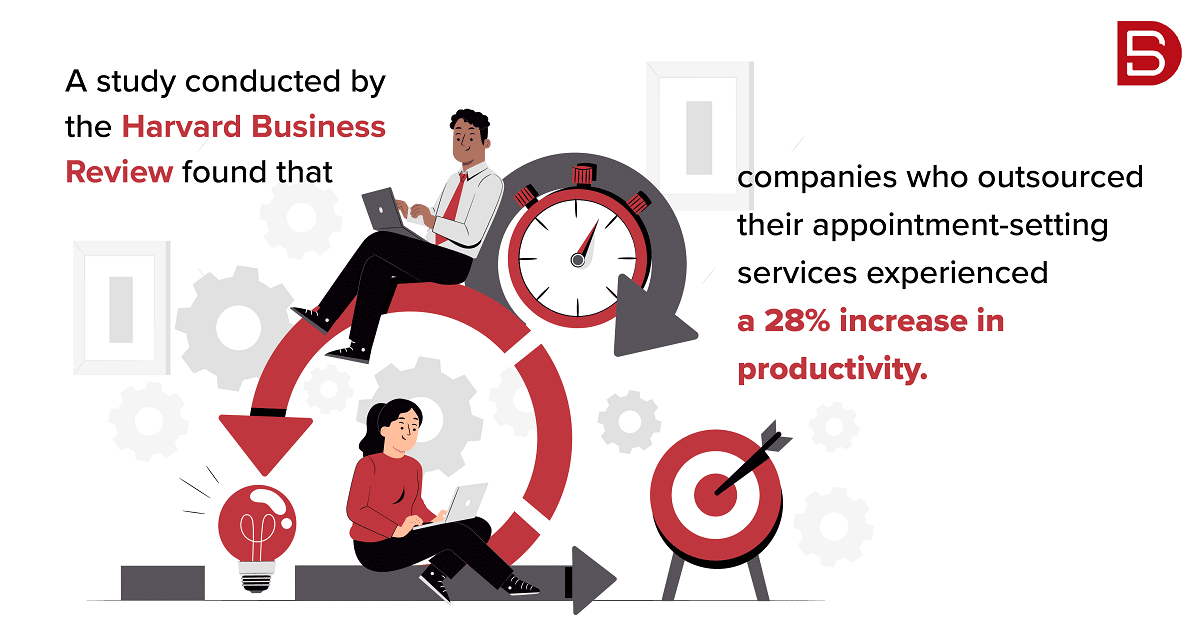 Key Factors to Consider Before Choosing a B2B Appointment Setting Partner
When choosing an appointment setting company, several important factors must be considered. Here are some key things to keep in mind:
1. Reputation and Experience
Research the company's reputation and track record. Look for testimonials, case studies, and client reviews to gauge their experience and success in an appointment setting. Consider the company's tenure in the industry and whether they specialize in your field.
Verify whether the appointment setting company has expertise in your industry. Understanding your products, services, and target audience is crucial for effective appointment setting. Industry knowledge helps the company navigate conversations, handle objections, and represent your business accurately.
Assess the company's lead generation methods and qualification process. Inquire about the sources they use to generate leads and how they ensure the leads meet your criteria. Understanding the company's approach to lead quality will help you evaluate its ability to deliver valuable prospects.
4. Communication and Reporting:
Clear and regular communication is vital for successful appointment setting. Discuss the company's communication channels, whether they use phone calls, emails, or CRM systems. Additionally, ask about their reporting structure, including how they measure success and provide updates on the progress of the appointments.
5. Cost and Return on Investment (R.O.I)
Compare pricing models and understand the value the appointment setting company can deliver. Consider the potential return on investment, including the quality of appointments and the likelihood of converting leads into customers. Look beyond the upfront cost and assess the long-term benefits.
By considering these factors, you can make an informed decision when selecting an appointment setting company that aligns with your business goals and objectives.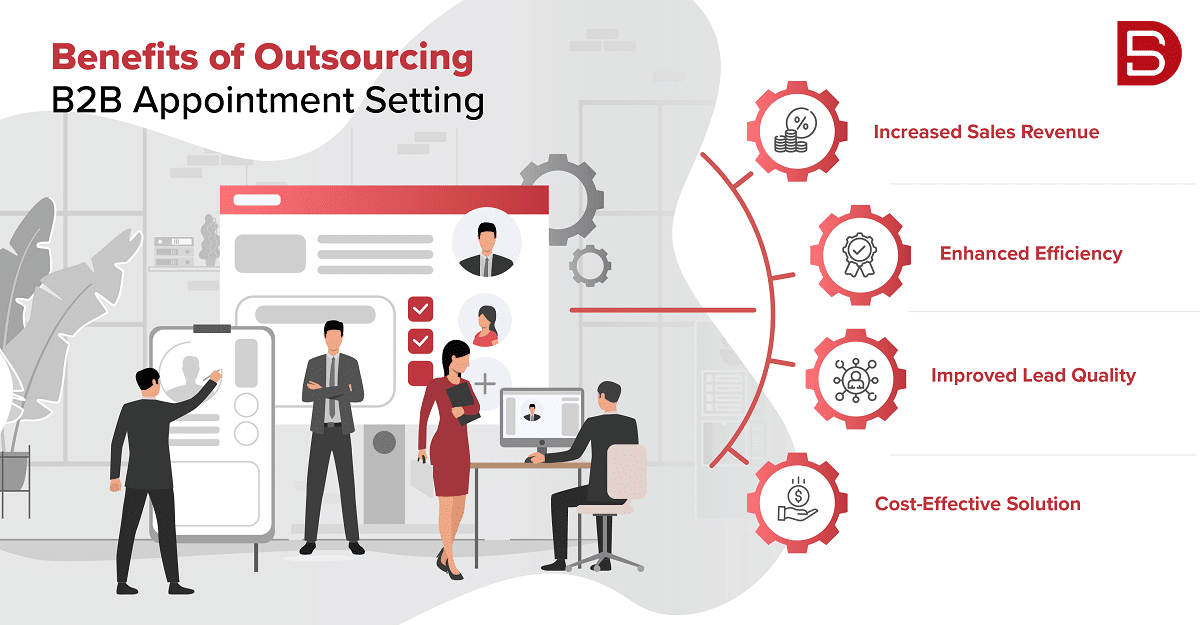 Top 15 B2B Appointment Setting Companies in the U.S.A.
Without further ado, here's the list of the top 15 B2B appointment setting companies for your consideration in 2023:
1. Datamatics Business Solutions
Datamatics Business Solutions is a top B2B appointment setting partner for global enterprises, offering over 200K hours of research and prospecting support across 30+ countries. Their client base includes Fortune 1000 companies, growing enterprises, and startups. They provide contextual meetings with well-planned agendas and expectations, converting opportunities into qualified leads. Datamatics' services are cost-efficiently backed by in-depth research across firmographic, demographic, technographic, and sociographic data.
Salesbread assists B2B companies, consultants, and sales teams generate more leads via LinkedIn outreach. They assist their clients to reach the target audience by creating customized sales funnels. Their lead generation tactics ensure more qualified prospects, and their one-on-one sales consulting provides a foolproof outbound strategy to boost your low open rates and message delivery.
CIENCE Technologies offers human-driven, AI-powered lead generation and personalized appointment-setting services for b2b companies. They offer a complete multi-channel lead generation solution and are less expensive than other appointment-setting services in their market.
SalesRoads, with 13 years of experience, offers appointment setting and S.D.R. services for businesses. They focus on identifying target markets for qualified leads, catering to major corporations with extensive marketing campaigns. Their voice services are ideal for outbound lead generation, making them a valuable choice for businesses seeking call center services.
While Pearl Lemon's lead generation strategies primarily use SEO and P.P.C., they also have a 50% market share in B2B appointment setting services. Lead generation and appointment setting are two of Pearl Lemon's specialties. Depending on your needs, their costs are fair because their minimum project sizes begin at $1000.
Intelemark focuses on setting appointments through demand generation, cold calling, and an authentic connection strategy, Intelemark is a good choice if you want to work with an outbound lead generation company that has been around for a long time. They were founded in 1999 and have a wealth of experience.
To find your ideal customer, Leadium uses lead generation that is both human-powered and strategy-backed. They provide a stats-backed predictive sales funnel solution. They offer voice services, setting up business-to-business appointments, and conversion optimization. Leadium provides its clients with weekly leads and summaries.
E.B.Q. offers sales, strategies, and outbound services for software, hardware, and cloud technology companies. With experienced teams in CRM consulting, S.I., email marketing, and voice services, they excel in generating leads for cloud-based technology companies and providing one-stop shopping in each area of outbound marketing.
Outbound View is a B2B appointment-setting firm with a proven track record in helping businesses locate H.R. buyers. With a reasonable price point, they have been suitable for startups and call center services since 2016.
Belkins is a global business that focuses on a distinctive approach to scheduling appointments with specific clients. They assist businesses with information technology with a quarter of the market. If this is your area of expertise, Belkins may be a good fit.
11. Strategic Sales & Marketing
SalesPro Leads, a B2B lead generation service provider, creates specialized programs to satisfy particular organizational needs. They use integrated marketing campaigns that use prospecting calls, emails, social media, the internet, and go-to-market strategies. They deliver demand generation, lead nurturing, appointment setting, sales intelligence, and various qualified lead types.
Callbox Inc. provides lead generation and appointment setting services to assist businesses in attracting potential clients and boosting qualified sales appointments. They use personalized messaging, detailed contact profiles, and business insights to target ideal customers. Additionally, they offer touchpoints through various channels and a selection of tools optimized for sales.
SalesPro Leads, a B2B lead generation service provider, creates specialized programs to satisfy particular organizational needs. They use integrated marketing campaigns that use prospecting calls, emails, social media, the internet, and go-to-market strategies. They deliver demand generation, lead nurturing, appointment setting, sales intelligence, and various qualified lead types.
ProphetLogic is an expert at helping I.T. and software companies set up qualified sales appointments with the right customers. ProphetLogic uses a volume-based approach enhanced with automation to gather and convert targeted leads by offering S.D.R.s that use data to target the appropriate B2B decision-makers.
To help businesses grow and fill sales funnels with qualified leads, Valve+Meter offers a wide range of outbound lead generation services, including B2B appointment setting, cold calling, and lead qualification. Its team uses a performance marketing strategy, prioritizing research, planning, and execution to draw in qualified leads and engage customers at every stage of the sales funnel.
We hope you found this guide to the top 15 appointment setting companies in 2023 useful in your search for the best lead generation partner. For most businesses, getting sales meetings is the most challenging part of the lead generation process. Appointment setting services can significantly reduce the difficulties and stress associated with these tasks.
If you'd like to learn more about how b2b appointment setting companies like Datamatics Business Solutions can collaborate with your sales team to scale your revenue growth, write to us at marketing@datamaticsbpm.com.