Data is an essential part of every business. More and more marketers are turning to B2B data enrichment to get more out of data. It is used to improve sales and marketing strategies, customer engagement and making crucial business decisions. Data enrichment services have proven to be a great aid to marketers looking to refine and optimize their business data. The benefits of data enrichment are numerous. It enables businesses to personalize communication and design customer journeys and enable business growth. Moreover, data enrichment solutions are making the customer acquisition process transparent, effective and efficient.
Data enrichment is the strategic process of refining and enhancing existing datasets by updating any missing data elements or incomplete data information. B2B data enrichment process typically includes combining first-party data from internal sources with third-party data from external sources.
Customer data is always in the raw form initially. When data is collected from multiple sources, it is largely unorganized, incomplete and sometimes redundant. The data enrichment process adds value to this data. It makes data more useful to businesses and helps them understand their customers better. Organizations need to optimize their data and utilize it to predict customer needs, design outreach strategies and establish a strong connection with the audience.
What are Data Enrichment Services?
Data enrichment services help you avoid data decaying and enable easy access to responsive and high-quality data. These services enrich your data, making it valuable for segmentation and targeted customer engagement. This helps you draw precise customer insights and channel your marketing efforts effectively.
Benefits of Data Enrichment Services
Data enrichment process can prove to be tedious and demand a lot of resources. Organizations aren't always able to cater to the demand and thus, they partner with a B2B data enrichment services provider. This not only enables organizations to focus on other business critical functions but also ensures the highest quality output. Here are some of the top benefits of enriching your business data.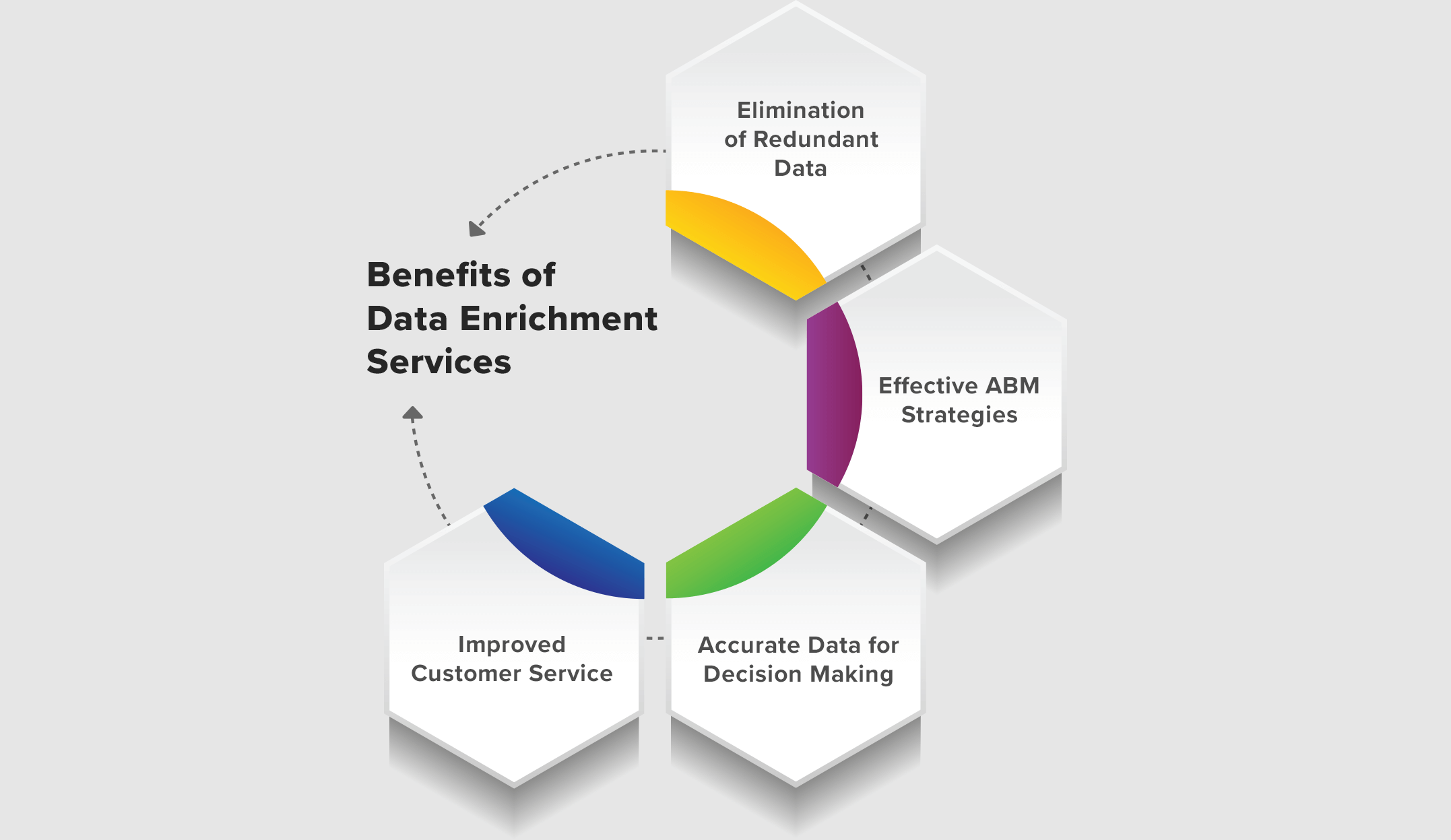 1. Eliminate Redundant Data
Redundant data can cost businesses significantly. It can easily translate into ineffective marketing campaigns, revenue loss and most importantly, customer loss. Organizations often seem confused regarding which data to retain and let go. This is where B2B data enrichment tools prove to be handy. They help you easily eliminate redundant data and improve the data quality for your business decisions. B2B data enrichment solutions will assist you in running focused campaigns that can boost your business outcomes.
2. Effective ABM Strategies
One of the biggest benefits of enriching your data is the clarity it offers regarding your target audience. Once your raw data undergoes data enrichment process, the result is refined, accurate and reliable data. Businesses can leverage this data to target ideal customer profiles (ICP), high value customer accounts, design personalized communication and marketing strategies and address their business challenges.
3. Accurate Data for Decision Makers
Data forms the heart of every sales and marketing strategy. Decisions made based on inaccurate, redundant and unreliable data will backfire more often than not. It can also result in increased customer churn and damaged brand reputation. To avoid this, organizations need data enrichment services. With accurate data at their disposal, business decision makers can predict market trends and make data-driven decisions for sustainable business growth. You can transform raw data into business-critical data that serves as a great aid for decision makers.
4. Deliver Improved Customer Service
Enriched data gives you better insights into customers and their challenges. This helps you address their pain points and provide solutions that will prove helpful. Data enrichment process also helps you understand where the customer is in the buying journey. You can deliver information accordingly and help them make better decisions, quickly. This results in increased customer loyalty, trust and improved customer service.
How Data Enrichment Services Help you Increase Business ROI?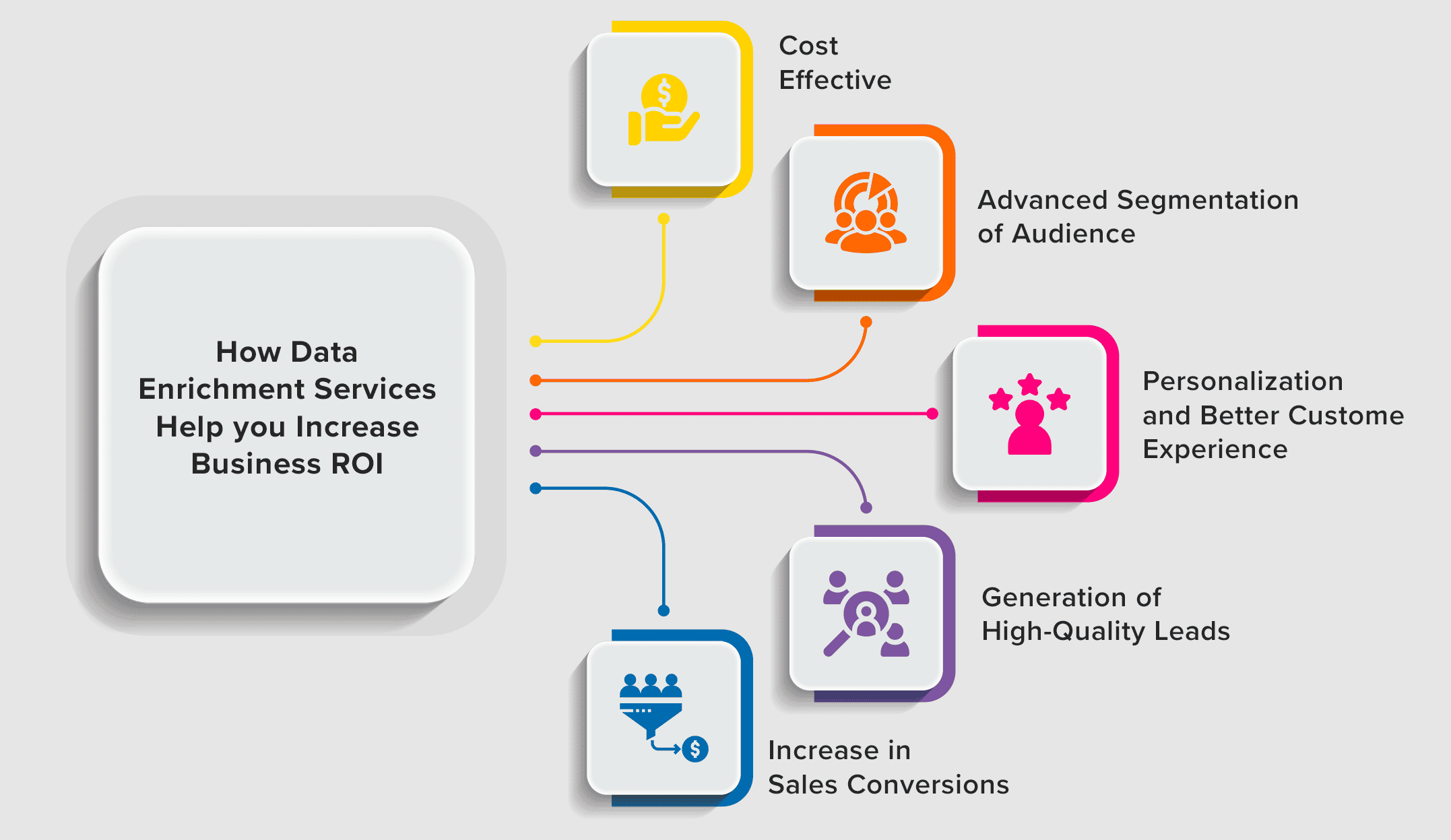 The benefits of enriching data can clearly be reflected in the reduced spends on business data collection, storage and analysis. Since B2B data enrichment helps you find the data that is relevant and useful to your business, you can part ways with the datasets that don't truly add value to your business. You optimize your data storage since you only store the required data. Businesses save huge costs on data storage and processing, thus achieving cost-efficiency.
2. Advanced Audience Segmentation
Every marketing campaign is dependent on the audience segment you are targeting. With enriched data, businesses can leverage advanced audience segmentation to communicate better. They can segment the audience based on their demographic, psychographic, geographic and behavioral traits. Enriched data also helps you optimize your marketing efforts by targeting the right audience at the right time and improve the conversion rates, thereby increasing business revenues and ROI.
3. Personalization and Better Customer Experience
Today, customers expect products and services customized to their needs. The same applies to marketing communication. Personalization can truly make an impact on customers and increase the chances of sales. Data enrichment services will help you understand the customers' buying behavior and make product recommendations based on their purchasing history. These services provide the missing pieces of customer data that prove vital in knowing their expectations and offering a much better customer experience.
Not all the business leads generated convert into sales. However, when the number of unqualified leads is high, you end up wasting your time and resources. B2B data enrichment services help you analyze the leads and create an ideal customer profile. You get insights into different attributes like demographics, buying capacity and behavior. You can predict high quality leads and utilize your resources to nurture them to increase your business ROI.
5. Deliver Improved Customer Service
One of the major benefits of enriched data is that it improves your conversion rates. B2B data enrichment will help you acquire new customers, increase signups and website traffic. This opens up new business opportunities and quality leads. Once you target and nurture high quality leads, the chances of sales conversion increase multifold.
The success of sales and marketing campaigns is determined by the data used for campaigns. It is important to cater to customer needs and expectations with the products and services you offer. B2B data enrichment services help you understand your customers better and improve lead conversion rates. The business benefits of data enrichment are reflected through cost optimization, better campaign results and increased business revenues.
Handling B2B data enrichment in-house may not be ideal for organizations when they can utilize the same resources for other business-critical tasks. Partnering with a data enrichment service provider can be cost-efficient and highly productive.
Datamatics' B2B data solutions improve your business data quality and make it accurate and highly reliable by eliminating redundant and bad data. Learn more about Datamatics B2B Data Solutions here.